ANNIE GOSFIELD whom the BBC called "A one woman Hadron collider" is a composer based in New York City. She has written opera that eliminates the boundary between concert hall and the city streets, pieces for violin and jammed radio signals, a concert-length work for her band that recreates factory environments, and chamber music inspired by deteriorating 78 RPM records. Her music couples unorthodox sources with a personal approach to working with musicians. She strives to reveal the inherent beauty of found sounds, noise, and machines from both the past and present, while emphasizing the unique abilities of each performer. In recent years, her music has evolved from chamber work and performances by her own group to bigger projects in opera and orchestral music. In all of her work, she invites the listener to appreciate all sounds, without dividing the world into separate categories of music and noise.

Annie was dubbed "a master of musical feedback" by the New York Times, who wrote "Ms. Gosfield's choice of sounds — which on this occasion included radio static, the signals transmitted by the Soviet satellite Sputnik I, and recordings of Hurricane Sandy — are never a mere gimmick. Her extraordinary command of texture and timbre means that whether she is working with a solo cello or with the ensemble she calls her 21st-century avant noisy dream band, she is able to conjure up a palette of saturated and heady hues."

In a revealing, in-depth profile, the New York Times wrote about Gosfield's past in factories, punk clubs, and the influence of found sources, improvisation, coffee, whiskey, technology and mortality: "her high-energy, imaginative scores blend acoustic and electronic elements and have a propulsive, aggressive drive tempered by haunting, poetic and lyrical interludes."

Gosfield has been awarded fellowships by the American Academy of Arts and Letters (2021), the Guggenheim Foundation (2017), the American Academy in Berlin (2012), the American Academy in Rome (Fromm Composer in residence, 2015), The Siemens Foundation (to "combine art and industry" in factories). She was a Lecturer in Composition at Columbia University (2020/2021), UT Austin (2019), has taught at Princeton, CalArts, Univ. of Indiana, and held the Darius Milhaud Chair at Mills College.

Annie's recent work includes "The Secret Life of Planets," a song cycle for the L.A. Phil (Best of 2022, L.A. Times); an opera performed by the L.A. Phil in Walt Disney Concert Hall and on the streets of L.A.; a portrait concert of music reflecting on immigrant experiences; an orchestral cello concerto; and a sextet inspired by, and performed under, Diego Rivera's "Detroit Industry" murals.

Watch on YouTube Listen on Soundcloud Shop for Recordings

Gosfield's discography includes four ambitious portrait albums on the Tzadik label, which feature music that ranges from a chamber cello concerto to EWA7, an industrial-inspired concert-length piece for her band. They are NOT on spotify or other streaming platforms, but can be purchased from Tzadik or found on the links above.
LISTEN to excerpts by clicking on thumbnails of CD's on the left
RECENT NEWS AND UPCOMING PROJECTS

THREE NEW RELEASES
Long Waves and Random Pulses on "Wild at Heart," by violinist Pauline Kim Harris, for her Chaconne Project on Sono Luminus. A collection of contemporary pieces that echo reincarnations of Bach's iconic work. VIDEO Album Review
Ghost Radios and Audio Mirages on "Alone Together" by cellist Johannes Moser. Pairing virtuosic cello with jammed radio signals in a multi-dimensional, spatial sound world using Dolby Atmos. Featuring six new commissions for electric cello. LISTEN Album
Screech for Scratch on "For the Birds" a 20-LP trove of songs and poems inspired by birdsong that includes Yo-Yo Ma, Laurie Anderson, Alice Coltrane, Elvis Costello, Yoko Ono, Lee Ranaldo, and many more, compiled by Randall Poster to benefit the Audubon Society. "Screech for Scratch" uses bird sounds, and of course screech owls, in an imaginary dub-inflected forest full of altered night owls. LISTEN Box Set Read about it

THE SECRET LIFE OF PLANETS: Heavenly Bodies and Earthly Gossip is a song cycle that was premiered by the LA Phil at Walt Disney Concert Hall. The LA Times included it in their "Best of 2022" and WROTE "The most imaginative new piece came later when the L.A. Phil New Music Group premiered Annie Gosfield's The Secret Life of Planets. This is a riotous 37-minute song cycle that takes off from where the score for her opera War of the Worlds left off... The score is as fabulous as it is true to Gosfield's planetary premise. The performance, conducted by David Bloom also proved fabulous."
Gosfield wrote 'songs that cast each planet in human form, imagining a ragtag bunch that are flawed, idiosyncratic, lonely, and harbor secrets. Maybe it was the lockdown, gazing out the window at night and seeing so few people, that made me transmogrify the heavenly bodies into human companions. It was performed by Hila Plitmann, who was wildly virtuosic as Mars (as well as other heavenly bodies), and James Hayden, our beloved crooner. As in War of the Worlds, I referenced the crackling ambience of a radio orchestra, writing pieces that shift through a cycle of interplanetary moods, incorporating noisy recordings of outer space, humor, darkness, and dance music.' -AG
Read the REVIEW Watch the VIDEO Read the LYRICS

WAR OF THE WORLDS is a new opera that eliminates the boundary between concert hall and the city streets. Commissioned by the L.A. Philharmonic, directed by Yuval Sharon, and narrated by Sigourney Weaver, it premiered in November 2017 at Walt Disney Concert Hall and on the streets of L.A. Three defunct air raid sirens located in parking lots in L.A. were re-purposed into public speakers to broadcast a live performance from Walt Disney Concert Hall, based on Orson Welles' infamous 1938 radio drama. Performers stationed at the 3 sirens sent their live report of the Martian invasion back to the concert hall, and performed simultaneously with the L.A. Phil.
Learn More! Listen to an excerpt Read the program
Watch the trailer Read the press clippings
See the live action on the street from twitter
Read the reviews:
The New York Times Seth Colter Walls wrote about "Ms. Gosfield's thrilling chamber orchestra writing" and "The collapse of physical distance was simple in design, perhaps, but stunning in execution."
The Los Angeles Times Mark Swed wrote "Stop reading and nab any seat you can find" and included it in his year end list as "The merriest opera premiere of the year"
The New Yorker Alex Ross described "a vital, engaged new-music cohort, one unafraid of risk." and wrote of Gosfield's "virtuosic command of classical, pop, and avant-garde styles... Like Welles, she places the reality-bending power of the media under scrutiny"
Alex Ross also included it in his "notable performances of 2017"
Gosfield has been awarded a 2021 fellowship by the American Academy of Arts and Letters, and a 2017 Guggenheim Fellowship in music composition. In 2019-2021 she taught composition at Columbia University, and was a Master Artist-in-Residence at the Atlantic Center for the Arts in Florida in 2021.
Bang on a Can and MASS MoCA present LOUD Weekend,
August 2-4 2019 An extravaganza of new music with 3 concerts of Gosfield's music
Detroit Industry: The Goddess Stamps Metal While the Blast Furnace Sings, Flying Sparks and Heavy Machinery, Almost Truths and Open Deceptions, Shattered Apparitions of the Western Wind, and Gosfield performing with Roger Kleier
Portrait Concert, Interpretations Series 30th Anniversary, at Roulette NYC Premiere of a new Library of Congress Commission written for the centenary of the passage of the 19th Amendment, which granted women the right to vote. May 2, 2019, 8PM Roulette NY INFO

PRESS FROM THE JULY 2018 STONE RESIDENCY
"It's hard to think of an artist who more readily exemplifies the distance downtown music has travelled in recent decades than Gosfield, an inventive composer and keyboardist who has gone from a gritty, do-it-yourself outlier to an estimable concert-hall presence. The common thread binding the freewheeling improvisational groups and innovative, eclectic chamber works she'll present in this Stone series is her uncommonly nuanced discernment of noise as both a doorway to visceral catharsis and an allusive tool to evoke other places and times." -Steve Smith, The New Yorker, July 30, 2018
Works List including orchestral, opera, chamber, and solo works
More upcoming concerts
Read about a 2017 program of music about immigrant experiences

Read an ARTIST'S STATEMENT
2017: Recordings by the Jasper String Quartet named one of the top CDs of the year by the New York Times
and James Ilgenfritz
Recent releases by Kathleen Supove "The Debussy Effect"
Michael Nicolas, Billy Martin, the Agosto Foundation,
and Anthony De Mare's much lauded Liaisons CD on ECM

2016: New orchestral work for a Music Alive residency sponsored
by the League of American Orchestras performed by the
Chautauqua Symphony Orchestra and Felix Fan,
new work for the LA Philharmonic's Green Umbrella Series,
and a residency at the American Academy in Rome as the
Paul Fromm Composer in Residence

PROFILE AND REVIEW IN THE NEW YORK TIMES,
REVIEW IN THE LOS ANGELES TIMES

PROFILE BY VIVIEN SCHWEITZER
"Annie Gosfield, Scoring the Music of Machines"
"her high-energy, imaginative scores blend acoustic and electronic elements and have a propulsive, aggressive drive tempered by haunting, poetic and lyrical interludes."
A revealing in-depth profile and interview about Gosfield's past in factories, punk clubs, and the influence of found sources, improvisation, coffee, whiskey, technology and mortality.
MARK SWED REVIEW IN THE LOS ANGELES TIMES
Refracted Reflections and Telepathic Static, which was written for the Naughtons and ended the program, proved a delight. This time the sisters, who played the flashy 15-minute premiere impressively from memory, were terrific. She had them going up and the down the keyboards merrily deconstructing jazz, Minimalist patterns and much else. Just sounds happily transformed, colliding and whooping it up.
CONCERT REVIEW BY CORINNA da FONSECA-WOLLHEIM
"Her extraordinary command of texture and timbre means that whether she is working with a solo cello or with the ensemble she calls her "21st-century avant noisy dream band," she is able to conjure up a palette of saturated and heady hues." Read about performances by Gosfield, Michael Nicolas, Jennifer Choi, and Kathleen Supove.
Watch Videos of Lost Signals and Drifting Satellites
and Shattered Apparitions of the Western Wind

Read about an uproarious and dazzling performance of Annie Gosfield's Electric Sweepers and Vacuum Creepers "That energy was fully unleashed in the Latin-tinged Rattling Beeps and Serging Sweeps for which Ms. Gosfield was joined by her 'avant-noise' band, and in the joyfully manic Depth Charge, in which a zombielike walking bass line is injected with '70s funk."
Learn more about Gosfield's wild, noisy dance music with Billy Martin, Roger Kleier, Steven Bernstein, Briggan Krauss, and Brian Drye.
Watch videos of Electric Sweepers and Vacuum Creepers
and Rattling Beeps and Serging Sweeps
Read NOTES about the project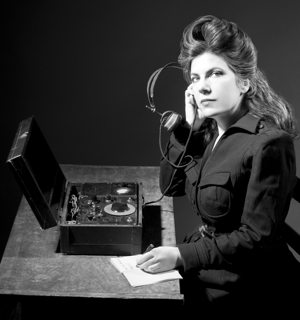 Annie Gosfield uses the KONTAKT Sampler and thanks
Native Instruments for their support.

Latest CD: "ALMOST TRUTHS AND OPEN DECEPTIONS"
A cello concerto, warped 78's, machines, a broken
shortwave radio and more
Listen to excerpts and read about the CD here
Order the CD from Tzadik or from Amazon
Read a review of the CD in the New Yorker here
VIDEOS on the GOSFIELD CHANNEL featuring
Kathleen Supové, Billy Martin, Phantom Shakedown, EWA7,
JACK Quartet, Ecstatic Music, Music with Jammed Radios


SIX ARTICLES IN THE NY TIMES "OPINIONATOR"
The latest: Confessions of a Composeress
3 interviews with iconoclast composer PW SCHRECK

QUOTES
"A ceaselessly re-inventive composer, Gosfield mixes history, technology, and autobiography in work that oscillates vibrantly between past and future."
-Richard Gehr, The Village Voice
"New York's doyenne of gnarly sampled sounds" – Russell Platt, The New Yorker
"The music's mood reflected the nature of radio jamming — abrasive, otherworldly and, at times, unexpectedly and eerily beautiful."
- Vivien Schweitzer, The New York Times