Almost Truths and Open Deceptions
click here to purchase: Annie Gosfield, Tzadik 8088
Or order it here from Amazon
Listen to excerpts
"Gosfield's pieces, driven by strong instrumental protagonists, stake their claim to a unique world - she's a glorious provincial, the Carl Nielsen of Second Avenue."
–Russell Platt, The New Yorker, on "Almost Truths and Open Deceptions"
CLICK HERE FOR THE COMPLETE NEW YORKER REVIEW

"Annie Gosfield, a New York composer and keyboardist, exuberantly exploits the inadvertent music of contemporary life: static, distortion, the clangor of industry and the siren song of space junk form part of her digital palette."
–The New York Times, CD release concert review by Steve Smith

"The urban urgency, collisions and intensities of New York surge through keyboard player Annie Gosfield's concerts with electric guitarist Roger Kleier and drummer Ches Smith. "Almost Truths and Open Deceptions" includes a blast of that group in action, augmented to a quintet, heavily rock-inflected and laced with industrial noise. But the city also leaves its residue in the music Gosfield notates for others. Her 24 minute chamber concerto, written for cellist Felix Fan, is stealthily paced but packed with characteristic clashes and disjunctions, abrasive timbres, pounding piano, smeared glissandi and fierce ensemble surges. Gosfield writes tough music, packing a punch and steering clear of sentimentality, even when evoking through an instrumental quartet a long lost sound from tenement hallways - the mechanical flaws and crackling shellac of wavering hand-cranked phonographs fitted with cactus spines for needles. Her own solo performance of Phantom Shakedown is a splendidly pungent distillation of her attitude and humour, combining raucously strummed piano with burbling shortwave radio and the churning grind of a cement mixer."
- Julian Cowley, The Wire #344, October 2012
"Annie is a composer of great imagination whose work brings together noise, traditional notation, and improvisation with wit and a charming sense of humor. For her fourth Tzadik CD she has put together another remarkable program of pieces inspired by (among other things) 78rpm records, deterioration, junk dealers and baseball. Including a piece for her own electric group inspired by the industrial revolution, a concerto for cello and six players and a composition for solo piano and broken shortwave radio this is one of Annie's most imaginative and varied collections."
–John Zorn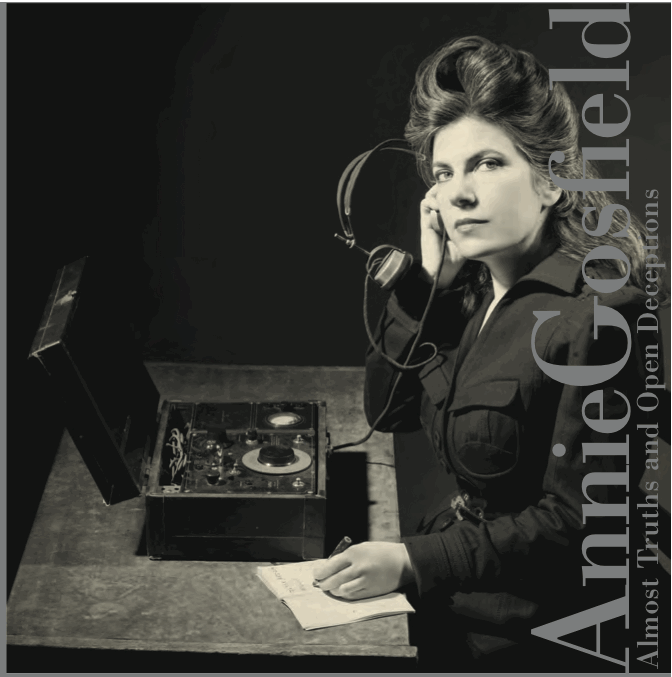 1. WILD PITCH 2004 12:42
for cello, percussion and piano
REAL QUIET: FELIX FAN cello, DAVID COSSIN percussion, ANDREW RUSSO piano
Commissioned by the Muzik3 Foundation
2. PHANTOM SHAKEDOWN 2012 8:13
for piano and tape/recorded media
ANNIE GOSFIELD piano, electronics

excerpt from Phantom Shakedown

3. ALMOST TRUTHS AND OPEN DECEPTIONS 2007 24:05
Cello chamber concerto for cello, percussion, piano, 2 violins, viola and contrabass
FLUX QUARTET: TOM CHIU, CONRAD HARRIS violins, MAX MANDEL viola, FELIX FAN cello
Plus BLAIR MCMILLEN piano, DAVID COSSIN drums, percussion, TONY FALANGA contrabass
Commissioned by the Musik3 Foundation, the American Composers Forum and Kaufmann Center, with additional funds provided by the Mary Flagler Cary Charitable Trust and the Jerome Foundation

excerpt from Almost Truths and Open Deceptions

4. DAUGHTERS OF THE INDUSTRIAL REVOLUTION (excerpt) 2011 5:35
For sampler, guitar, drums, percussion and cello
ANNIE GOSFIELD sampling keyboard, ROGER KLEIER electric guitar, CHES SMITH drums/percussion, FELIX FAN cello, ALEX LIPOWSKI percussion
Commissioned by The MAP Fund, a program of Creative Capital supported by the Doris Duke Charitable Foundation and the Rockefeller Foundation

excerpt from Daughters of the Industrial Revolution

5. CRANKS AND CACTUS NEEDLES 2000, 7:32
for flute, piano, violin and cello
THE PEARLS BEFORE SWINE EXPERIENCE : GEORGE KENTROS violin, SARA HAMMARSTRÖM flute, MATS OLOFSSON cello, MARTEN LANDSTRÖM piano
Commissioned by The Pearls Before Swine Experience

excerpt from Cranks and Cactus Needles
NOTES ON THE COMPOSITIONS

I've always led parallel musical lives, balancing playing in my own band with composing notated music for others.
This CD reflects the full spectrum of these intertwined existences, from a noisy five minute blast by my band to a chamber cello concerto that follows a 100-page score. No matter what the approach, the performers always provide the initial inspiration for each new piece. All of the recordings on this CD are performed by the musicians for whom the pieces were written, and each one of them brought their individual energy, style and wild techniques to the table, bringing to life to the challenge of integrating the beauty of noise, found sounds and electronics with more traditional compositional techniques.
WILD PITCH emphasizes Real Quiet's raw energy, and incorporates many of the unusual techniques that each of the musicians has developed. Fueled by Felix Fan's unique intensity and dynamic playing, the cello careens between conventional tuning and quarter tones, and shifts from dolce timbres to aggressive scrapes. David Cossin plays a drum set augmented by his unusual collection of Chinese cymbals, hand bells and broken gongs, with plenty of room for interpretation and improvisation. Andrew Russo alternates tremolos with inside the piano techniques that make use of a steel guitar slide, mallets and a baseball, in a piano part equally influenced by Fats Domino and George Crumb.
I finished Wild Pitch during the 2004 world series. The title reflects the piece's unpredictable sliding intervals, as well as the sense of a baseball game gone momentarily out of control. The ties between baseball and this piece aren't only metaphorical, though. I later discovered that Andrew's father, who was a catcher in the minor leagues, knew my distant cousin, Ruben Amaro, who was a shortstop, scout and trainer for the Phillies.

I performed PHANTOM SHAKEDOWN live on piano, accompanied by samples of detuned and prepared piano, a grinding cement mixer, the howl of a malfunctioning shortwave radio, and a mixed din of tube noise and other failing technologies. The piece is an audio snapshot of my odd sonic environment, and juxtaposes the wide mix of piano music that I have absorbed over the years, from John Cage to James Booker, along with some recently recorded off-kilter mechanical sounds.
Phantom Shakedown is part of an ongoing series of compositions for solo acoustic instruments with electronics that I developed in close collaboration with individual musicians. Composed for this CD, this is the first piece in the series that I perform myself. It completes this recording's unofficial theme of compositions that feature raucous, noisy keyboard playing, from cluster-heavy piano parts to driving machine samples.
ALMOST TRUTHS AND OPEN DECEPTIONS is titled for the almost-unisons (Almost Truths) that clash and glissando towards a mass of open D strings (Open Deceptions). This chamber concerto is the culmination of several years of working closely with Felix Fan, and becoming familiar with his dynamic and very personal approach to the cello. The piece includes aggressive, almost out of control tutti sections; mysterious buzzing trills; atmospheric undulating half steps; rough, scratchy timbres; driving, rhythmic pizzicati; and a piano part that borders on brutal, performed with microtones and clashing almost-unisons that expand the concerto's harmonic palette. There is a personal artifact hidden in the din: a secret message in Measure 11 (0:31). Composed on April 1, the anniversary of my first gig ever in a band called "Planet Z", it contains a fragment of the "Planet Z Theme", an April Fool's Day link to my past in the punk clubs of Los Angeles in the 1980s.
DAUGHTERS OF THE INDUSTRIAL REVOLUTION is a concert-length piece inspired by my immigrant grandfather, a junk dealer who recycled scrap metal on the Lower East Side, and my grandmother, who worked in the sweatshops of downtown New York when she was a young girl. As a third-generation Daughter of the Industrial Revolution, I am linked to this history, not only genetically and geographically, but in terms of how I experience the world. Inspired by a junk dealer's ingenuity, I take pride in using raw materials and transforming them into something new. Here the raw materials take the form of factory sounds and machine rhythms, performed by my trio (Roger, Ches and myself) augmented by two virtuosi of notated new music (Felix and Alex). Like a machine built of many moving parts, Daughters of the Industrial Revolution consists of several sections of varying instrumentation that incorporate strictly notated music, improvisation and a collaborative process more common to a band. This is a live recording of the last section of the piece, which is driven by sampled machine sounds and a very odd steam- powered organ. Performed by our very mixed quintet, it gave us the opportunity to blow off plenty of steam ourselves.

CRANKS AND CACTUS NEEDLES was commissioned by the fine Stockholm based ensemble "The Pearls Before Swine Experience", who road-tested the piece in venues ranging from rural Scandinavian churches and clubs to concert halls in New York City. The piece is inspired by the sound of ancient 78 RPM records, and the pops, scratches, skips and warps that accumulate as the discs deteriorate. "Cranks" refers to the handles of the record players that had to be cranked in order to play a 78, and "Cactus Needles" refers to the cactus spines that were used as phonograph needles. (Cactus needles were used when metals were at a premium during World War II, and they caused less wear and tear on records.) In the score, the musicians are instructed to play the piece "distant and ghostly, like a Victrola down the hall", and to use uneven vibratos, imperfect repeats, detuned intervals and unpitched scrapes to evoke the decaying sounds of these shellac discs. The CD ends on an appropriate note, with the violin and cello echoing the sound of a needle stuck in an end groove, quietly maintaining the even, consistent scratch that signals the end of this now obsolete technology.

– ANNIE GOSFIELD
All music composed by ANNIE GOSFIELD
Produced by ANNIE GOSFIELD
Tracks 1–3, 5 co-produced with SILAS BROWN
Executive producer JOHN ZORN
Associate producer KAZUNORI SUGIYAMA
Track 1 recorded by NIK CHINBOUKAS at Spin Studios, NYC
Tracks 2, 3, 5 recorded by SILAS BROWN at Oktaven Audio, Yonkers, NY
Track 4 recorded live by SILAS BROWN at the Kitchen, NYC
Tracks 1–3, 5 mixed by SILAS BROWN at Legacy Sound, New Rochelle, NY
Track 4 mixed by MARC URSELLI at EastSide Studios, NYC
Mastered by SCOTT HULL, NYC
Cover, inlay and inside booklet photos by JOSH GOSFIELD
Obi photo by PAULA COURT courtesy of The Kitchen
Design HEUNG-HEUNG CHIN
Annie Gosfield uses Native Instruments' KONTAKT sampler
Thanks to John Zorn, Felix Fan, Roger Kleier, George Kentros, Carol Tashjian, Richard Deming, Josh Gosfield, the Muzik3 Foundation, Rabbit Ears Audio, Florian Grote and Native Instruments, The Kitchen, the American Academy in Berlin, and all of the musicians